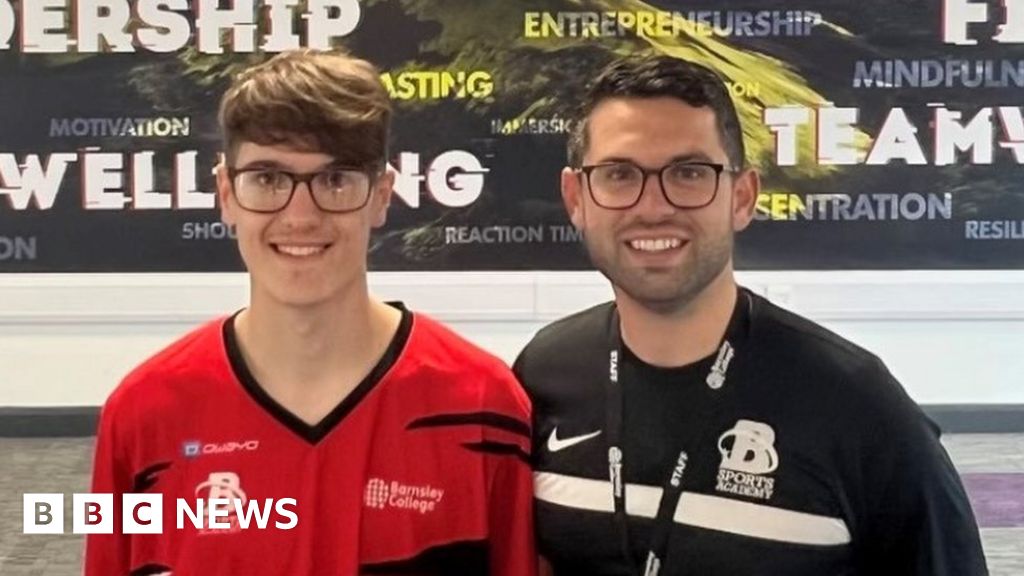 Layton Ripley, 18, is among the first students to complete a two-year BTec in competitive gaming.
A student in South Yorkshire has become among the first in the country to gain a top qualification in esports.
Barnsley College student Layton Ripley has achieved a triple distinction BTec Level 3 – which is equivalent to three A grades at A-level.
Esports are competitive, human-versus-human video gaming where teams of players pit their skills against their rivals online.
Layton, 18, said: "I feel really good. I've worked hard for it."
In 2019, Barnsley College became the first centre to offer a one-year BTec in esports, with a purpose-built gaming arena and tailored classrooms created.
He said he had particularly enjoyed teaching esports and healthy living to primary school pupils as part of the course.
"It really helped build confidence," said Layton.
Kalam Neale, course leader at Barnsley College, said there were now more than 160 approved esports centres, with that figure set to grow to over 200 next year.
Mr Neale, who recently became head of education at industry body British Esports Association, added that the qualification had close links to creative media, sports and business.
"Key skills in esports include strategic thinking, leadership and working as part of a team," he said.
"He's had a fantastic two years. We are all really pleased for him."
Layton, who said he had not ruled out a future career in esports, is due to begin a degree in sports coaching at University Campus Barnsley in September.